Guns Armors PSP
From GameBrew
Guns Armors
General
Author
pipagerardo
Last Updated
2008/06/06
Type
Shooter
Version
2.01
License
Mixed
Links
Download
Website
Guns Armors, also named as Cañones Corazas, is an action shooter homebrew for PSP. The homebrew is in Spanish and written by pipagerardo.
This is an entry from the Neo Summer Coding Compo 2008 (PSP Games, not qualified as it was submitted after deadline). It was patcipated in the Scenery Beta 2008 (PSP Games, 3rd place).
Features
Progressive gameplay.
Upgrade your tank and weapons.
Survive mode.
User giude
You're on a battlefield fighting it out with other battle tanks.
The objective, of course, is to survive the onslaught within the set time, because you can have up to five opponent tanks attacking you.
But that's not the only exciting this about this game. You can actually play with a friend using the PSP's AdHoc connection.
Of course, you get better too as you go along, having the capability to upgrade not only weapons and speed of your tank, but also the damage your tank can inflict on your opponents.
Controls
L - Turn counter clockwise
R - Turn clockwise
Up - Speed up
Left/Right - Go left and right
Down - Brake
Circle - Mine
Cross - Shoot
Select - Menu
Start - Pause
Screenshots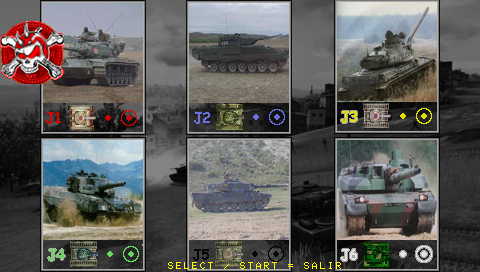 Changelog
version 2.01 2008/06/06
Code released.
Finally the long-awaited Collaborator Credits.
Finally the long-awaited Pause and Game Menu.
Five terrains in 3D and retouched in 2D.
Exhaustive memory cleaning to avoid crashes.
Definitive graphics.
Many internal optimizations for the best memory usage.
Changed icons.
And many more reforms of the graphics of the game.
External links