GhostBustersDS
From GameBrew
GhostBustersDS
General
Author(s)
Sephiroth_FF7
Type
Role Playing
Version
Beta 0.7
Licence
Mixed
Links
Download
Website
Advertisements
<htmlet>adsense</htmlet>

GhostBustersDS is a port of the game GhostBusters released on various platforms, the graphics are primarily taken from the Sega Master System version. The game elements are not quite the same, it combines all versions with added personal touch.
User guide
When started, enter a name and number. Choose the car. Purchase products such as Ghost Vacuum, Ghost Bait, Ghost Trap.
While on the map, use the indicator to look for ghost:
Red - There are ghosts.
Purple - There will be ghosts.
White - It will be attacked by Marshmallow Man.
Move toward the ghosts and use your items to catch it. And after passing a ghost you will need to capture with the tools purchased. When you are on the road, collision makes you lose money, approach ghosts to suck them up with the ghost vacuum.
Capture mode - Use A for every action. If the capture phase does not start, go to GBHQ.
ZUUL - Move the ghost with Stylus. Press A or Left to use the ghost food.
Controls
D-Pad - Move
A+D-Pad - Go into building (on map)
A - Catch ghost
B - Use ghost bait
Screnshots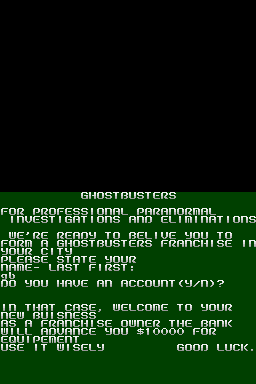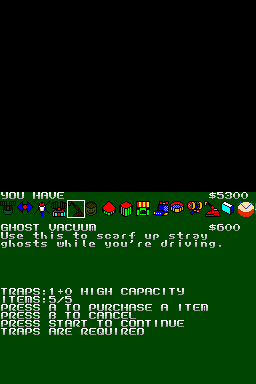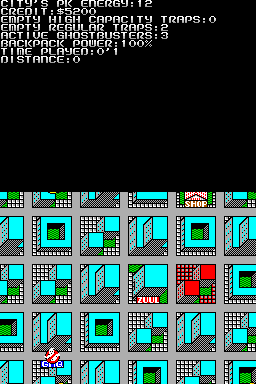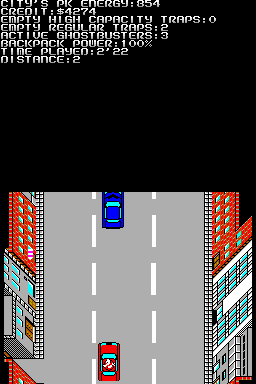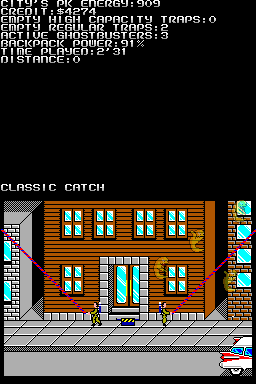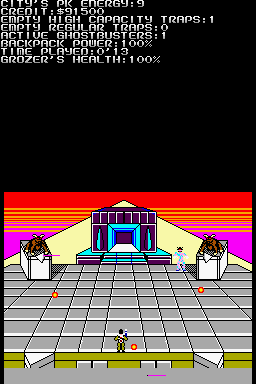 Changelog
Version 0.7 2008/01/05
3 possibility of different captures in the 3rd city.
Display of lyrics when the game starts.
Version 0.6 2008/01/03
The 3rd city is accessible but is not yet finished.
There are different musics depending on the city.
Bugfix: Pressing A does not skip the choice screen cars.
Version 0.5 2008/01/01
Possibility to change the city when you finish the game, for now it gives the possibility to have the game faster.
Version 0.4 2007/12/31
Adding the fight against Grozer.
Keyboard keys do not stay red.
Possibility to cancel item purchases.
Ghosts can be caught on the end of journeys.
Ghosts are no longer paralyzed when they are hit by scent.
Fixed a bug with bank accounts.
Version 0.3 2007/12/29
Version 0.2 2007/12/28
Bugfixes.
Passage to the entry of ZUUL.
Version 0.1 2007/12/24
First public release.
Very little advanced stage.
External links