Evil Teddy PSP
From GameBrew
Evil Teddy
General
Author
Blue_AlchemyStudios and White_AlchemyStudios
Last Updated
2013/01/08
Type
Action
Version
1.0
License
Mixed
Links
Download
Website
Evil Teddy is a homebrew action game for PSP made by Alchemy Studios, in which you play as an evil bear that makes disasters on a farm, a fun game that becomes absurd.
It was participated in the PSP Genesis Competition 2011.
User guide
It was one of those perfect sunny days on the farm, until all hell broke loose. Who would have imagined that all the animals suddenly go crazy and start bombarding the place to pieces?
Can you imagine it? I certainly don't. But Evil Teddy, the lovable, cute and furry space-assassin mutant hero, is up for anything.
And I mean: Anything.
Take control of Evil Teddy and defend the farm from suicide bomber terrorist animals. Use the rare vacuum to blast them at the sharp peaks on the roof.
Alert! They have bombs! Please don't waste valuable time asking why? We need to save the farm, now!
You are mean. You have no mercy. You are OP. You are Evil Teddy.
Now kick some butt. Go!
Controls
Menu:
Start - Start playing
In game:
D-Pad Left/Right - Move Teddy
Cross - Use the vacuum cleaner
Triangle - Unleash your evil power
Screenshots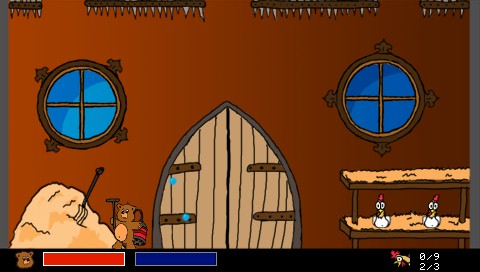 External links