Clickr PSP
From GameBrew
Clickr is a casual PSP homebrew game written by ktix007. There are 3 versions for different languages: English (up till v1.5), Catalan and Spanish (both available for v1.6).
It is featured at the Scenery Beta 2009 (PSP Games, 4th place).
User guide
The goal is to count the passing cars. As soon as a car passes you must use the counter to count a car.
If you think you have made a mistake, you can remove a count from the odometer.
If you get the correct number, you will go straight to the next level. You will have to restart the level if the number of cars on the meter is not the right one.
The difficulty increases with levels, with more cars and requirements that will ask you to count only certain types of cars.
Controls
R - Count one
L - Substract one
Select - Pause the game
Triangle - Go back to the main menu
Screenshots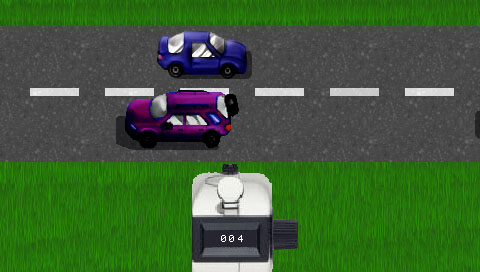 Changelog
Version 1.6
Story mode.
Money (ClickrDollars).
Additional features.
Version 1.5
Level selector.
10 levels (5 new).
Requadro that says the current level.
A new map (the beach).
Progressive difficulty.
Version 1.0
It has 3 different places to play.
It has 5 levels.
The difficulty of the game increases with the levels (it is progressive).
External links