CaSTaway PSP
From GameBrew
CaSTaway
General
Author
Jeff
Last Updated
2007/11/15
Type
Computer
Version
006
License
Mixed
Links
Download
Website
CaSTaway is an emulator for the Atari ST, which is a 16/32-bit home computer from the mid-1980s.
Wriiten by Jeff, the emulator is also available on Palm OS, Zodiac and GP32.
Installation
Note: The emulator requires an authentic TOS/The Operating System Boot Image to run. It could have been a file with .rom or .img extensions, and you need to rename it to TOS.ROM (make sure you change the extension not just the name). Developer recommended using US 1.02 for best result, however many others work fine also.
Build 006 is intended for Custom Firmwares (e.g. M33 and Dark Alex OE); whereas 005 is built for Firmware 1.0/1.5/2.0 (available on the official website).
To install, copy the contents of /PSP-Custom-Firmwares/PSP/GAME/ to your /PSP/GAME/ directory of choice.
Then put the TOS.ROM file into your ATARI_ST directory.
Place Atari ST roms/game disk images (ST, MSA, ZIP) in the /PSP/GAME/ATARI_ST/ directory.
User guide
Load Game Disk image (ST, MSA, ZIP)
It supports rom/game disk images in ST, MSA formats and can be zipped. Note that each zipped file can only contain one rom/disk image.
Menu options
Control Modes.
Disk and Savestats Management.
Make a Savestate.
Set Scaling Mode.
Throttle Management.
CPU Mhz Management.
Reset Atari ST or Quit CaSTaway.
Button configuration
As of verson 004, you can bring up the Controls menu to alter the default behaviour of the buttons.
Controls
Atari ST:
Select - Show/hide on-screen ST keyboard
Start - Show/hide main options menu
Analog - Mouse movement
D-Pad - Joystick
Square/Circle - Left/Right mouse click
Cross - Joystick fire button
Screenshots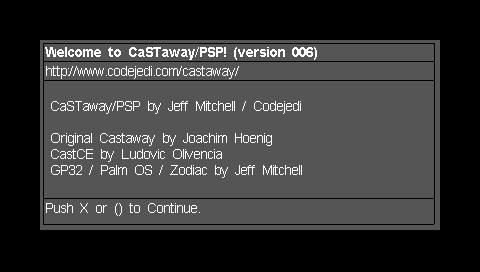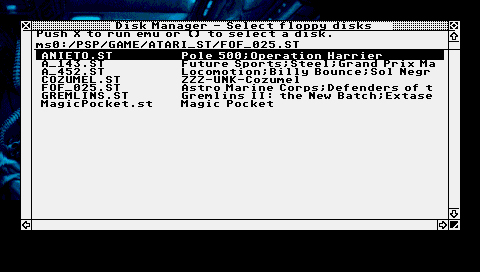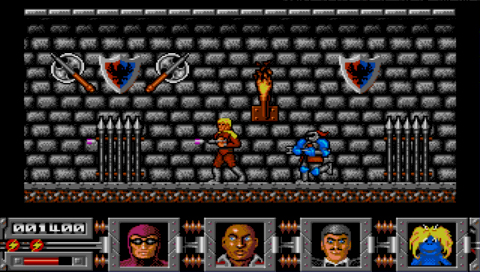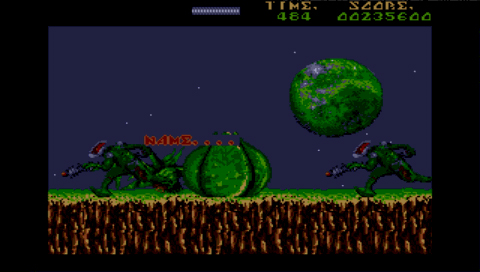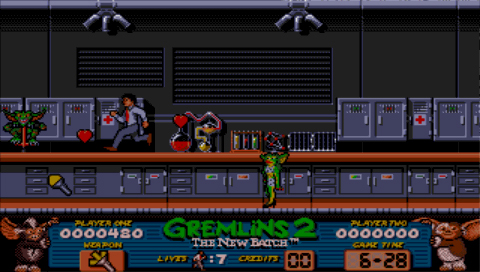 Changelog
Release 006
A new build environment with fresher toolsets.
Fixed some menu display issues (font clipping, spacing of text and other trivialities).
Fixed some minor emulation issues that caused Dungeon Master to crash deep in the game, which hopefully fixes some things in other games too.
Works for the Slim very nicely.
Release 005
Handle more than 250 disk images/savestates (up to about a thousand now).
Added goofy ST-like unpack effect at load time, 'unpack demo' for a few secs, wait a sec, 'black' and menu as normal.
Can set throttle to 60Hz, 50Hz, or even 30Hz, or unthrottle.
Added scaling menu, so you can specify:

Scale 1:1 with centering.
Scale fullscreen with smoothing.
Scale fullscreen without smoothing.
External links