Baukasten
From GameBrew
Baukasten
General
Author
Christian Hülsemeyer ChiSaw (Mazik)
Last Updated
2008/07/09
Type
Puzzle
Version
3
License
Mixed
Links
2 / 3 Download
Website
Baukasten (German) is a DS homebrew puzzle game, featuring 11 different geometric shapes puzzle pieces based on Tangram.
User guide
Move the blocks around to build different designs. The keys allocation is in the menu under Instruction.
Controls
Stylus - Move pieces
Left - Delete
Down - Rotate
L/R - Increae/decrease size of puzzle pieces
Right - Clone
Screenshots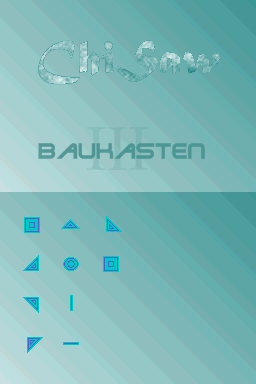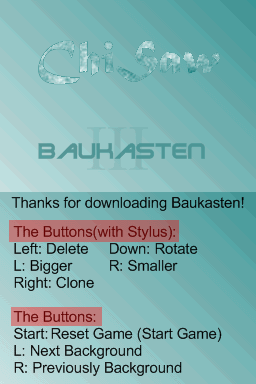 Changelog
Baukasten 3
You can delete.
Sound.
You can increase and decrease size of the puzzle piece.
A guidance.
A menu.
You can reset.
version v0.2
External links