Difference between revisions of "Balloon DS"
From GameBrew
m

m (Text replacement - "| licence" to "| license")

Line 4:
Line 4:
 

| type        = Shooter

 

| type        = Shooter

 

| version    = 2.0

 

| version    = 2.0

−

| licence     = Mixed

+

|     = Mixed

 

| author      = Tipiak

 

| author      = Tipiak

 

| website    = http://www.playeradvance.org/forum/showthread.php?t=1313

 

| website    = http://www.playeradvance.org/forum/showthread.php?t=1313
---
Revision as of 09:56, 20 October 2021
Balloon DS
General
Author
Tipiak
Type
Shooter
Version
2.0
License
Mixed
Links
Download
Website

Balloon DS (French) is a puzzle game where you have to hold the NDS upside down and try to pop the balloons. It is one of the PAlib projects.
User guide
Hold the DS upside down. Then look for balloon to burst it and put it in one of the 2 stocks (left and right).
To pop a balloon without storing it, simply tap on it without pressing a button.
To go to the next level you have to pop a certain number of balloons of each color. These numbers are shown on the non-touch screen (which means bottom screen since the DS is upside-down).
There are 2 types of bonus balloons (blue) that will appear during the game:
Flower balloon - Give time bonus.
Star balloon - Allow you to get 4 balloons of the same color in a row.
Since version 2.0 you can also view the next balloons.
Controls
A/Y - Store ballon on the left/right
Stylus - Shoot
Play with the NDS upside down, this is by design according to the author (so you can see the balloons float up).
Screenshots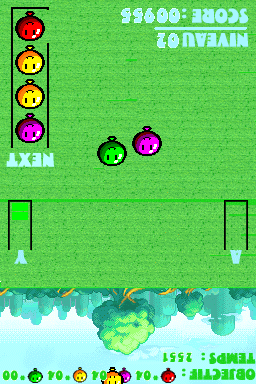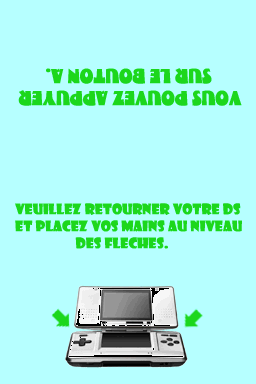 Known issues
A memory overflow makes the game unplayable on normal DS (sprites disappear) while for DS Lite, the game becomes playable after a few seconds.
Changelog
Version 2.0
Modified graphics and adjusted some elements of the gameplay.
Added bonus balloons and visualization of the next balloons.
Version 1.1
Following Sto's advice, added a pause that allows you to restart a game as well as an interface suitable for left-handers (you can use left and right instead of A and Y).
Finally, reduced the time between each level. Thanks Sto.
Version 1.0
Added a menu and made some changes to the game interface. But it is not subject to change yet. Everything that is displayed is now right side up (it's really hard to work backwards).
The various display bugs are also removed.
The sound part has also been processed.
Also made some changes to getting the extra points and time.
Beta version
External links