Abbaye Des Morts 3DS
From GameBrew
Abbaye Des Morts 3DS
General
Author
nop90
Last Updated
2017/08/18
Type
Platform
Version
1.0
License
GPL-3.0
Links
Download
Website
Source
This is a port of L'Abbaye des Morts, a 2D exploration platformer, to the 3DS.
L'Abbaye Des Mort (The Abbey of the Dead) is a minor project from the game designer and developer Locomalito, made in two weeks and just 23 screens long. Like other Locomalito's game, it is developed with Gamemaker and only runs natively in Microsoft Windows systems.
The game is no less interesting due to the choice of making it similar to a ZX Spectrum game, specifically to platformers like Manic Miner and Jet Set Willy - but not as hard, luckily.
Installation
In the zip there is a folder with the 3dsx and the smdh files inside, to be used with the Homebrew Launcher.
The CIA file is to be installed with FBI. All the resources are included in the executable using romfs.
User guide
The plot is set in 13th century. You take the role of Jean Raymond – one of clerics who preached about the poverty of Christ and a life without material aspirations, and who were for this reason treated as heretics by the Catholic Church.
Jean is running away from crusaders who want him dead. He finds an old church and decides to hide there. He doesn't know what ancient evils hide in that place.
Controls
A - Jump
D-Pad - Move
B - Change theme palette
Screenshots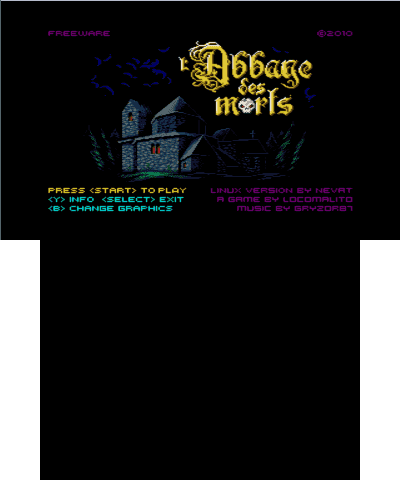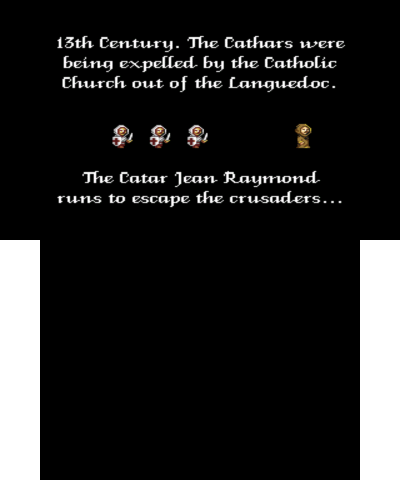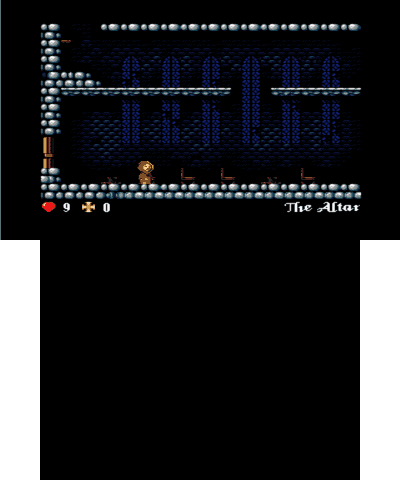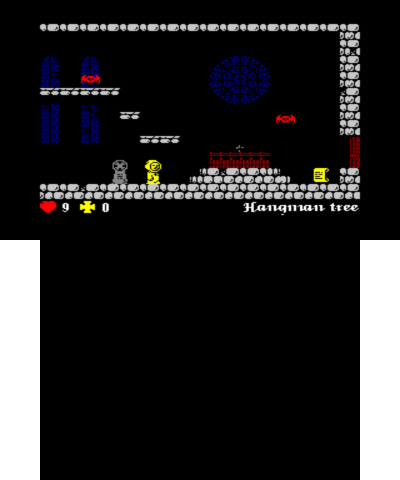 Media
L'Abbaye des Morts Longplay (C64) [QHD] (AL82 Retrogaming Longplays)

Changelog
V1.0 2017/08/18
First release in 3dsx and CIA format.
Credits
Game by Locomalito: Open Sources and freeware.
This 3DS port uses the SDL 1.2 library for 3ds.
External links