3DS Video Converter
From GameBrew
3DS Video Converter
General
Author
NekuSoul
Last Updated
2016/11/05
Type
File Operation
Version
2.6 Beta2
License
Mixed
Links
Download
Website
Source
An easy-to-use video converter for the 3DS.
Features​
Multiple File Conversion​.
Fast Conversion using Threads​.
Drag'n Drop​.
Supports multiple Cores​.
Supports 3D and 2D Videos​.
Changeable Quality​.
Output-Folder can be set​.
Progress-Bar in Taskbar (Win7 only)​.
Renaming Videos to automatically fits into 3DS's naming scheme​.
Automatically cuts Video into multiple 10 minutes Videos​.
Subtitle Hardcoding​.
Preview Mode.
Screenshots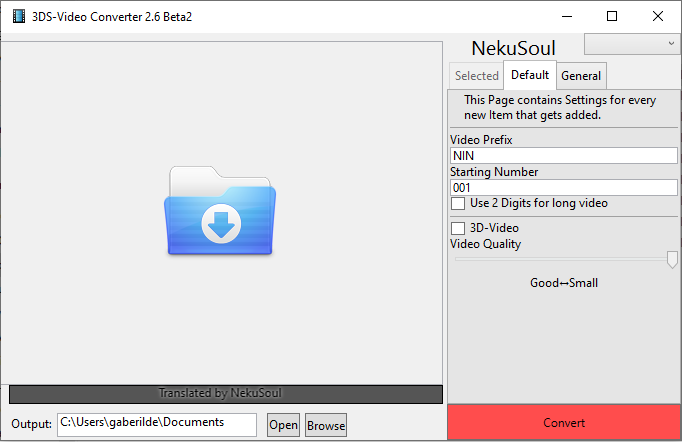 Changelog
v2.6 Beta2 2012/11/05
Features a Video Stretching option and the new Translations as well.
The Bad thing: The translations need to be updated for the new added vocabulary/Video-Stretching Option. Otherwise the translation will just show [Stretch] as a placeholder.
v2.5 Beta3 2012/09/26
Fixed Naming errors​.
Fixed Videos longer than 10mins. ​
External links