Take the eggs! Ornithorhynchus Anatinus GO GO GO!
From GameBrew
Take The Eggs! Ornithorhynchus Anatinus GO GO GO!
General
Author
Retrohead
Last Updated
2008/09/29
Type
Arcade Games
Version
1.0
License
Mixed
Links
Download
Website
Ornithorhynchus Anatinus GO GO GO! DS is a port of the Sega Saturn game by NAXAT SOFT called Motteke Tamago with Ganbare! Kamonohashi. The game can be seen as a cross between the classic bomberman games and Flicky.
In this version of the game, the levels have been ported relatively faithfully to the Nintendo DS. Some levels are notably different to the original ones due to the smaller screen of the Nintendo DS.
All modes from the original game will be reproduced and also a few extras will be in the final version. One of the features to be integrated will be a level editor to allow you to build your own levels and upload them to share with your friends.
Features
3 game Modes.
In-game tutorial.
8 worlds (24 stages).
Versus mode play against 3 CPU.
Can select the length of the game.
Installation
Enter the binary folder.
Patch the .nds file with the DLDI driver for your media.
Copy the patched *.nds file to anywhere on your media card.
Copy the TakeTheEggs folder to your media card (no more than 3 directories deep).
Note: Some devices now feature auto DLDI patching so will not need to be patched.
User guide
Your goal is to go after the eggs, collect them, let them hatch and bring back your kids to your house (and only yours if you want to get points).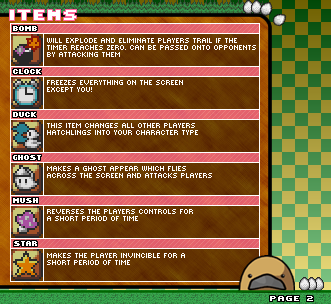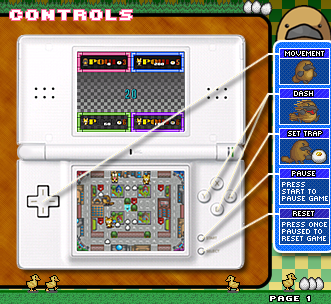 Screenshots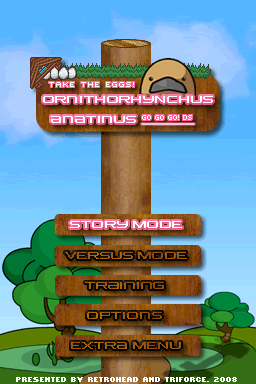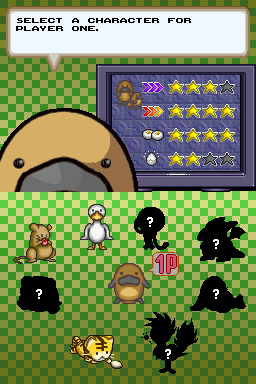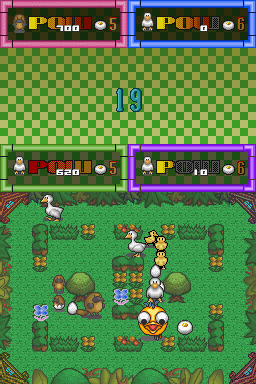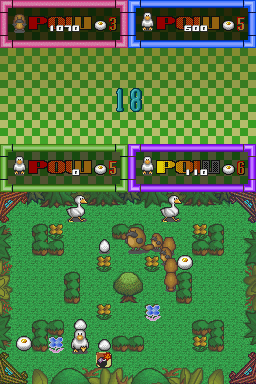 Changelog
v1.0
Vehicle speed on world 2 increased to be closer to the original game.
Time stop active time decreased to be closer to the original game.
Ghost / Death Messenger can now hit eggs and loose babies.
Added 5 new stages.
Added 4 new characters.
Score sprites positioning improved.
Added Hi-Score menu and awards for story mode.
Story sections incorperated.
2 hidden modes available for ranking high in story mode.
Options screen with sound level options added.
Save game support added to keep your Hi-Scores and unlocked modes etc.
Beat characters in story mode to unlock them in versus mode.
Play worlds in story mode to unlock them in versus mode.
Various bugs fixed.
v0.3a
Fixed the layer problem with the TV in character / world select.
Improved 3D VRAM updates (Big thanks to DarkEz for the help).
No more sprite flicker due to the new VRAM updates.
New 3D Sprite system now allows for MP3 music in game. This could not be implemented before due to the amount of flicker it caused.
Few new SFX added courtesy of the extra RAM space available by using MP3.
Smoother rotation on the stage select reel.
Implemented world specific SFX.
Added enemy to world 1. Don't let him get you!
Visual notification of the scores being gained / lost.
Invisible fried egg bug should now be fixed (reports welcomed).
World 3 is now unlocked for all to enjoy.
v0.2a
Multiplayer menu is now open. This allows you to choose your opponents.You can only play against the CPU at this moment in time.
Stage Select menu added. Choose your favourite and how many eggs to get.
Inludes an extra world (3 stages), The City, which also includes enemies.
Ghost power-up aka Death Messenger is now included.
New "Stage Results" screen added for single player mode.
Improved CPU AI. They can now tell what objects are around them (sort of).
5 characters are now selectable from the character select menu. (Multi).
Couple of new SoundFx added.
v0.1a
First public release.
Includes in-game tutorial.
Includes a 3 stage demo of the main game.
Everything is working except for the Ghost power-up aka Death Messenger.
Credits
Coding: retrohead.
Game idea: Naxat Soft (Port idea by retrohead).
Game Title: Warbird & retrohead.
Graphics: retrohead & Triforce.
Music Selection: Naxat Soft (Original music is included).
Boxart & Manual: Triforce.
Translation: Warbird.
Debug Tests: Toadette, retrohead, Triforce, three14, Homie, jericho.
Thanks to:
Mollusk for creating PALib.
The creators of libnds and devkitpro (wintermute and dovoto).
Naxat Soft for creating the original Sega Saturn game.
Sander Stolk for help with C syntax and lots of answers to retroheads questions.
Chishm for creating the excellent DLDI patches for libnds.
Lick & melw for file locator.
External links