Still Alive DS
From GameBrew
Still Alive DS
General
Author
t4ils
Last Updated
2009/08/01
Type
Puzzle
Version
1.21
License
Mixed
Links
Download
Website
Still Alive DS is a homebrew game inspired by Portal: The Flash Version, a 2D version of Portal that combines platforming, first person shooting, and physics based puzzle solving. This game features a story mode, custom maps, custom campaigns, maps editor and you can download new maps from WiFi.
It was ranked 1st in the NEO Summer Coding Compo 2008. It was voted the 6th Top DS homebrew in the 2009 best DS homebrew contest.
Features
Multi-language (Spanish, French, German and English).
Story mode.
Edit mode for custom maps.
Wi-Fi to download custom maps.
Custom themes.
Compatible with DSMotion.
User guide
The objective of the game is similar to 3D counterpart, which is to make your way to the level's exit by using your portal gun, and occasionally jumping.
Although to make the game more challenging, in order to complete the room, you must collect pieces of cake before the exit will become active.
Controls
The controls are catered for both left and right handed players.
Stylus - Aim the gun at movable object/portal compatible surfaces (non-compatible surfaces are clearly marked with black and yellow)
Left/Right or A/Y - Move left/right
Down/B - Fire an orange portal
Up/X - Jump
L/R - Fire a blue portal
Start - Pause menu
Screenshots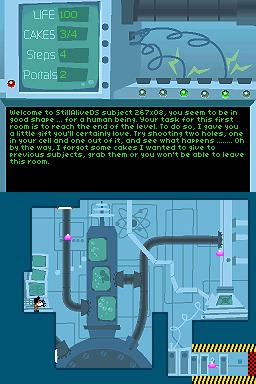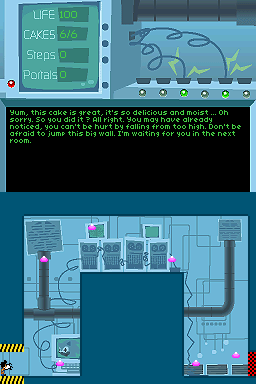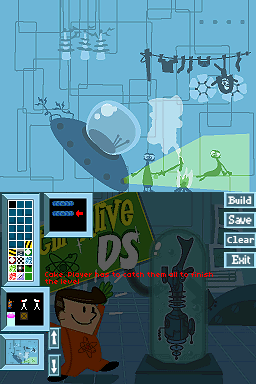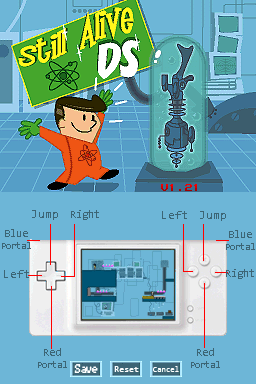 Media
StillAliveDS NeoCompo Summer 2008 (Christophe Launay)

Compatibility
Flashcards compatibles:
R4
R4i-SDHC
Cyclo DS
DSTT
DS One
Ez V
Edge
M3 Real
M3 Simply
M3i Zero
Acekard
Acekard 2
Acerkard 2i
DS-Xtreme
DS Linker
DS link
DS Fire card
G6
N5
Ninjapass X9
Ninja DS
iTouch

Changelog
Bugs fixed since Forum-Only Beta
You don't see maps starting with "._" anymore (For all us Finder users).
Corrected the "crates on platform" bug where an object on a crate that is on a platform is not considered on the platform (so this object doesn't move at all).
Added a red aim line to turrets so that you know that they're aiming at you.
Added a line to show the trail of bullets.
External links