Platform 2.5D
From GameBrew
2.5D Platform is a DS homebrew platform game contains elements in both 3D and 2D. It is a proof of concept engine that renders in 3D but uses 2D tilebased collisions.
The idea is to use screen-dimension-friendly coordinates for 3d scene, low memory footprint and fast enough for any type of game.
User guide
In the initial release there is a small level of buckets full 3D, while handle the sprite in the level is a simple 2D rectangle.
You can jump on top of enemies and ride the green enemy.
It has the ability to zoom in and out the screen.
Source code is provided which can also be used for Pacman clones, Space shooters, etc. Would be useful to develop into a paper mario, metroid, megaman type of game.
Controls
D-Pad - Move
A - Jump
X - Camera mode
R/L - Zoom camera
Screenshots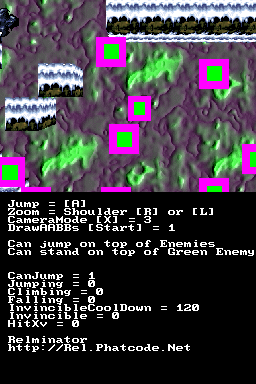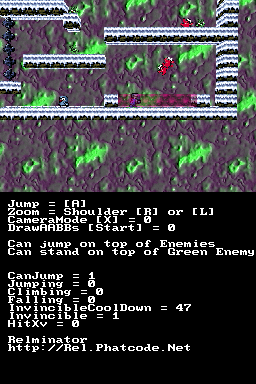 Compatibility
Tested on Supercard DSTwo (firmware EOS 1.11).
Changelog
2012/08/31
Done:
Collisions.
Enemies.
Water.
Can bounce on top of most enemies.
Can ride a green enemy.
Almost everything needed for a basic platformer is done.
External links