Fruit-Y 3DS
From GameBrew
Fruit-Y
General
Author
Retroguru, nop90
Last Updated
2016/10/30
Type
Puzzle
Version
20161030
License
Mixed
Links
Download
Website
Fruit'Y - Playing with edibles is a puzzle game heavily inspired by the Kaiko classic Gem'X, which has been seen on computers such as the Commodore Amiga 500, Commodore 64 and Atari ST.
An official 2013 spin-off named Leona's Tricky Adventure is available and can be purchased via KTX Software Development.
Features
Hand set pixels.
Amiga chiptunes.
Score tracking.
120 levels.
Installation
Available in 3DSX and CIA formats. All the resources are included in the executable using romfs.
The game creates a fruity subfolder inside the 3ds folder if doesn't exist.
User guide
Although tiger mum forbids little Sheran to play with edibles, there is simply no way to stop him from playing with fruits found inside the deep jungle.
Being shiny, smelling wonderful and tasting even better Sheran can't be kept away. So let's do the best we could do: Support him!
The game consists of two boards of fruits. The left field belongs to Sheran who needs to reproduce the right field 1:1 being able to proceed to the next level. Sounds easy?!
There is a total of five fruits. Once you control Sheran's prank and activate a field, the fruit inside the activated field morphs two steps, while the other fields located above, below, to the left and to the right, morph the fruit located inside only once.
The order of fruits is shown in the middle of the playing field.
Mango -> Turns into an orange.
Orange -> Turns into a banana.
Banana -> Turns into a pear.
Pear -> Turns into an apple.
Apple -> Turns into nothing, the apple disappears.
Don't forget: Hit on the spot, the fruit morphs two steps, while the surrounding neighbour fruits only morph once.
Screenshots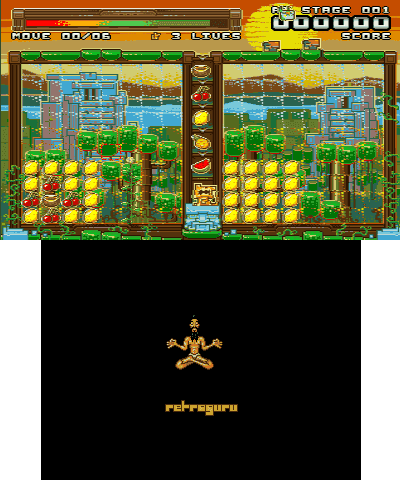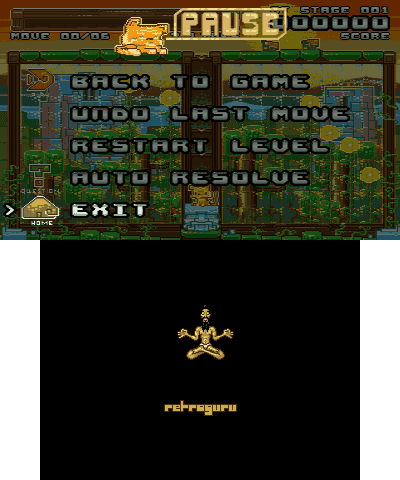 Media
Fruit'Y - Playing With Edibles | by Retroguru (Official Trailer) (Mulle)

Changelog
2016/10/30
Added Sound/SFX volume level controls.
Warning: if you update from the previous version, go to option and adjust the SFX volume or it will be very low (15%).
2016/09/29
Final release - 3dsx and CIA.
2016/09/15
RC1 release - 3dsx and CIA.
2016/09/07
2016/09/03
Credits
Core team:
Porters:
Rodolphe Boixel (Thor) - Windows (32-bit), Linux (32-bit), Linux (64-bit), PSP, Wiz.
Frank Wille (phx) - Amiga OS4, MorphOS, NetBSD x86, NetBSD PPC.
Xavier Vallejo (Indiket) - Dreamcast, Mac OS X.
Artur Rojek (zear) - GCW Zero, Dingoo A320 OpenDingux.
Fabio Olimpieri (Oibaf) - Wii, GameCube.
Yannick Erb - AROS.
Bruno Marie (Gameblabla) - TI-Nspire CX.
Lars Persson (AnotherGuest) - Symbian OS Series 60, Symbian OS UIQ 3, Android.
Manuel Alfayate (Vanafel) - Raspberry Pi.
Sergei Kolesnikov (Exl) - MotoMAGX.
Gisberto Rondinella (nop90) - Nintendo 3DS.
Helping hands:
Jan Jensen (Flarfy) - Handdrawn graphics for the DVD Cover.
Denny Mueller (Mulle) - Trailer, DVD Cover Design, Testing
H7/Accession - ASCII art for readme file.
Fruity-Y uses SDL, SDL_Mixer, libmodplug and zlib. Consult and visit:
Music tracklist:
Title - Fruity (Intro) (by Vedder).
Level 1 - Puzzle Tune Factory (by Triace).
Level 2 - Breakfast Envy (by Vedder).
Level 3 - Go Mellow (by Triace).
Level 4 - Lauras Peak (by Vedder).
Level 5 - Smoothie (by Triace).
Level 6 - Power Slide (by Vedder).
Level 7 - Pezko 2 The Chip (by Triace).
Level 8 - Shadowfax (by Vedder).
Level 9 - Fruity Liquids (by Triace).
Level 10 - Sunday Drive (Vedder).
External links