FTP PSVita VPK Installer
From GameBrew
Install vpk files to your PSVita with FTP.
Changelog
Beta3.0
* Performance Improved
* You can move/minimize the application while is installing
* When you open a game you'll be asked to rip the manual (this can make the game thinner, for example, Tearaway is 180MB thinner).

Beta2.1
* Fixed a bug where the files were transferred to a wrong folder.
* Added autoinstall, now the installer.vpk is auto installed.

Beta2.0
* Now the installer.vpk is deleted after you install it.
* Added second progress bar with the progress of the current file upload.
* Added text with the current file uploading.
* Now the program remembers your PSVita IP and Port.

Features
* Install VPK files without using the double of space.
* Windows Compatible.
* Mac Version (Planned).

Usage
DON'T LET YOUR PSVITA ENTER IN SLEEP MODE.
Open the application and click Open Game...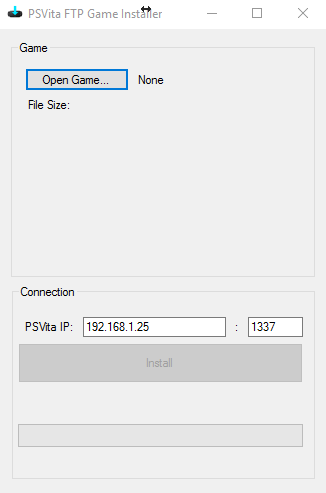 Select the game and wait until the application create the necessary data.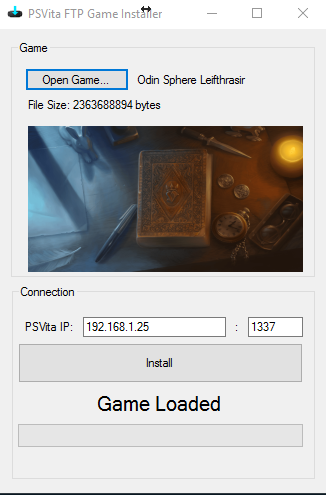 On your PSVita open VitaShell, press Select and write your IP and Port on the application.
Then press Install.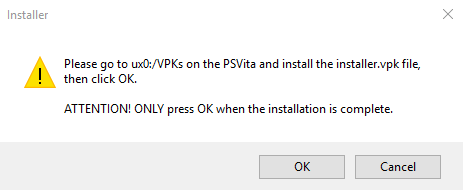 When this Message appears go to ux0:/VPKs on your PSVita and install the installer.vpk file.
When the installation finish press OK.
Finally wait until the vpk is installed, this can be a lot of time depending on the game size and your connection.