DS Visual Novel Reader
From GameBrew
DS Visual Novel Reader is a Nintendo DS application used for playing gamebooks formatted with sound and pictures. It is designed to play visual novels created in .scr format.
Installation
For v1.4.9:
Extract archive onto the root of the SD card so the path is /vnds/.
To install a visual novel, extract the tar.gz in /vnds/novels, so it has its own folder (ie. /vnds/novels/tsukihime).
Sound files should end up in /vnds/novels/<game folder>/sound/.
For v1.5.3:
Take the .novel file and place it in the /vnds/novel/ folder.
Note from developer:
Any save prior to version 1.3.1 needs to be ran though the sav2xml.py utility in the /tools/ folder (requires Python to run).
Also make sure the path is correct. If you run it and you get stuck at a white screen, launch it with an alternative launcher, such as DSOrganize or DSChannels.
User guide
Resources
Screenshots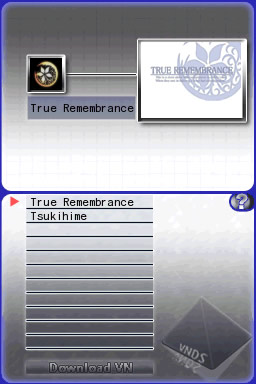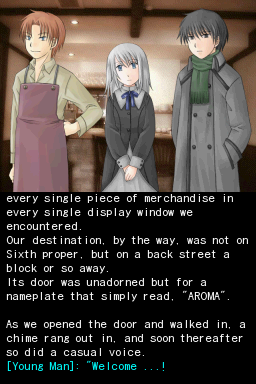 Changelog
1.4.9 2010/01/13
anoNL:
PNG error handling (ignore spurious warnings/crash on invalid png).
"text ~" inserts blank lines again.
1.4.8 2009/10/21
anoNL:
Backported new functions up to 1.5.3 (excluding wifi + .novel fmt).
Added support for unpacking .novel files to NovelManager.
ASNI color code support in the text renderer.
Increased sprite limit from 4 to 9.
Waking up from sleep mode was glitchy.
1.5.3 2009/06/22
Jake:
Fixed bug with undefined variables in conditionals.
String variables need to be ""`d (setvar/if).
Wifi doesn't hang forever if it can't connect.
1.5.2 2009/06/03
Jake:
Fixed problems with music with too high a bitrate.
1.5.1 2009/05/16
Jake:
.novel thumbnail.png select screen crash bug fixed.
1.5.0 2009/05/04
Jake:
.novel support.
Download novels directly onto ds.
Redid FIFO stuff.
'if var == 0' works with unset variables again.
Dilt:
1.4.2
Global vars were reset when loading a save file.
Changing the skin via config.ini didn't work.
Date wasn't saved properly in save files.
Missing resources no longer generate warning messages.
Fast reading by holding Y is now a lot faster.
Background fades more intelligent (fade to black on bg change).
1.4.1
Graphical glitches in the GUI.
Backlight control could only turn the screen off on the original DS.
PNG loading crashed on corrupt or wide (> 256 pixels) images.
Sound didn't unmute when returning to the main menu.
Tapping the screen advanced the script even in choice-mode.
Variables weren't saved properly.
1.3.5 2008/06/02
Jake:
3 small fixed bugs in loading saves made.
Endscript actually do something (returns to titlescreen).
1.3.4 2008/05/29
Jake:
Fixed a bug in loading saves/skipping text.
Something happened to make True Remembrance work (diff doesnt explain much).
1.3.3 2008/05/25
Jake:
Fixed problem with time not changing.
.sav keeps track of game state to make loading faster.
Does nothing when attempting to load an empty save.
Loads script in 4k blocks.
Left/right moves to first/last option in select screen/choices.
1.3.2 2008/05/23
anoNL:
Bugfix: ArchiveFileHandle.Read() didn't work as expected (didn't update the read pointer afterwards).
Bugfix: removed file io from interrupt handler.
Bugfix: texture streaming bug in the save/load menu.
Rewrote text cache to use freetype's built-in caching system.
Added option to interrupt delay commands by pressing A, B or the touchscreen.
Skip scene functionality, hold R and press Y to skip ahead to the next scene/choice.
Added support for AAC format (for sound effects only).
1.3.1 2008/05/23
Jake:
Fixed linebreaks in choices.
String variables.
Variable placement in commands.
Moved save format over to .xml (converter provided).
Less efficient, but more stable sleep mode.
Collision detection more efficient.
New save theme.
1.3.0 2008/05/21
anoNL:
Support for png formats other than 8bit/channel truecolor.
Support for uncompressed .zip format for storing foreground/background/sound, except MP3 music.
Rewrote sound/music code which caused ~80-90% of all crashes.
Slightly improved text anti-aliasing.
Rewrote line-wrapping algorithm, now supports UTF-8 character encodings.
New save/load menu.
Improved visuals for the in-game choice view.
Script loader is better protected against buffer overflows.
Bugfix: empty folders show up as valid novels in the main menu, but crash the program upon selection.
Performance: text rendering.
Performance: savefile loading speed.
Jake:
About screen (after constant prodding).
`random` command (see documentation).
Slight change in save menu (how it resizes).
1.2.7 2008/03/30
Jake:
Fixed problem with backgrounds not loading and other weirdness.
1.2.6 2008/03/30
Jack:
Fixed saves for real this time, maybe.
1.2.5 2008/03/30
anoNL:
Credits
Programming: Jake Probst, anoNL.
External links