Colors
From GameBrew
Colors! is the first application developed by Jens Andersson. It has a clear color-selector and several basic drawing functions, there are also a few special effects such as mirroring the picture and watching an instant replay form the painting you create.
It was announced the 1st place in the 2009 Top DS homebrew.
User guide
You can use up to 9 slots to save pictures and replay data as well on your flash-memory or SD card.
You can then retrieve the data on your PC to reuse or work with the data you made on your portable gaming console.
Screenshots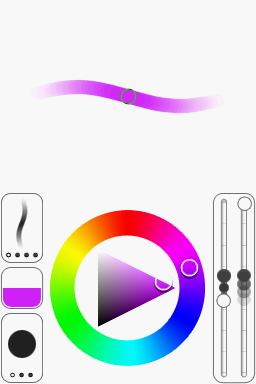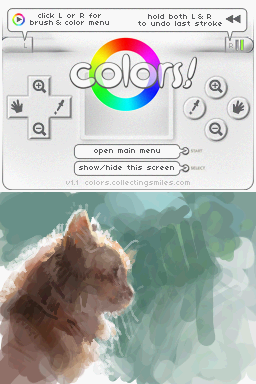 Changelog
v1.1
Unlimited .drw length - There is no more 1MB limit for those huge painting projects.
Undo - A quick one-step undo, and better tools to be able to scroll through the playback of your painting.
Improved latency and performance - Colors! is quicker and more precise than ever. Sketching has never been more responsive.
Automatic full-screen pressure calibration - No more uneven pressure across the screen. It might even make your old throwaway DS usable again.
Gallery integration - Browse, download, like and share directly from your DS using Wi-Fi.
New UI - Cleaner, better, prettier. Just what you would expect from the most anticipated Colors! update ever.
Export painting - Repaint your painting in 2x or 4x directly on the DS. It's slow, but it's worth it.
Left/Right hand support - Configurate Colors! for left and/or right hand usage.
One additional zoom-level - Get a better view of your painting by zooming out a step.
New brush - A new bristle like brush that gives a more organic feel to your paintings.
Colors! Magazine - A magazine in your pocket with a selection of paintings and interviews from the Colors! Gallery.
v1.1b
Fixed a critical bug where commands were not deleted from the .drw if you did more than one undo (or a mid-point playback).
Fixed a minor graphical corruption where a very big soft brush cursor could display a faint square outline.
You are now able to press Start when Colors! initially boot to go directly to the Canvas.
beta2
Added support for browsing and posting comments.
Added a white-out to the like button if a painting was already liked by you.
Flips are now correctly handled when you undo.
Fixed an inconsistency with playbacks, where some strokes didn't fully draw all the way to the end.
Fixed a minor issue where brush color was lost after leaving the playback screen under certain conditions.
Made the behavior on failing or returning from the gallery login screen more consistent.
Updated the Colors! icon (thanks everyone for the help with this).
External links