Angband
From GameBrew - a wiki dedicated to Video Game Homebrew.
Angband
General
Author
Immir (Michael Smith)
Last Updated
2009/02/09
Type
Role playing
Version
3.1.0 beta
License
Mixed
Links
Download
Website
Source

AngbandDS is a DS port of Vanilla Angband, a rogue dungeon crawler. This homebrew projects is a work in progress (see also related project First Age Angband and development update).
Installation
Copy angband.nds to your card (DLDI patch if your card does not support autopatching).
Copy angband directory to the ROOT DIRECTORY of your card
For upgrading, delete your angband/nds/BUTTONS.DEF file to get some new button features (author stated button configuration is still in flux).
CycloDS users can rename angband.nds to autoload.nds to have it boot into Angband automatically.
Note:The savefile for Competition 63 is installed by default.
User guide
The screen setup is designed for Term-1 displaying messages, and Term-2 displaying player (compact); they are not set by default due to some bug in option parsing (although it has been tweaked the competition savefile to set these up).
Many screens have not yet been reformatted for narrow screens, and the interface design is still work-in-progress and subject to change at any point.
Virtual keyboard use is still often required to play. Also automatic game buttons aren't coming and going properly just yet.
Controls
L - Toggle keyboard
L+R - Quick-start configure
R - Examine bindings
B - Smart attack, Search (default)
Screenshots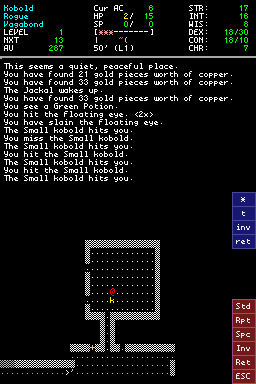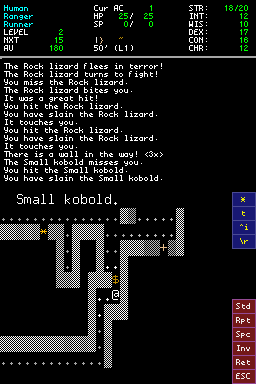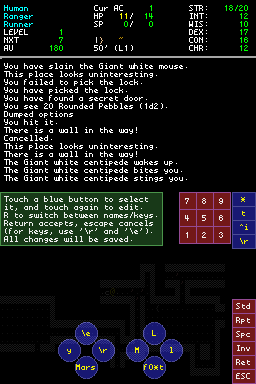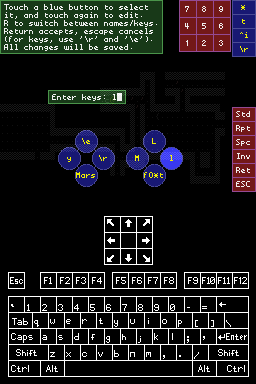 Compatibility
Does not run well on emulator.
Known issues
Doesn't power down when game quits.
Lots of line-too-long issues.
Notably: character creation information off-screen.
Spurious text button in status area.
Changelog
3.1.0 beta
Added a column of user buttons down left-side of screen, visible after holding shift for 1 second (NB: see Upgrading hint above)
Fixed stack overflows at end of game; you can now get info, dump record etc (Arrghh, my comp character got lost!)
Character creation buttons no longer stay around (buttons still buggy, though)
Fixed "loopy" mouse movement bug; character now moves directly to target location (modulo inherent bugs in current path-finding code)
External links