A7800DS 1 & 2
From GameBrew
A7800DS 1 & 2
General
Author
Alekmaul
Last Updated
2011/05/24
Type
Console
Version
1.0
License
Mixed
Links
Download
Website
Source
A7800DS is an Atari 7800 console emulator based on the ProSystem emulator.
Features
Most things expected from an emulator.
Installation
Note: To use this emulator, you must use compatibles rom with a78/bin format.
Download and extract file (a7800DS2 is for Supercard DS Two only).
DLDI patch a7800DS.nds and copy to a directory of flash card/micro SD/MMC.
Put the a78/bin files anywhere you want on your flashcard.
User guide
When the emulator starts, click on the cartridge slot to choose a file.
Use Up/Down to select a file, then use A to load it.
Controls
D-Pad - Joystick
A - Fire button 1
B - Fire button 2
Select - Select Button
Start - Start Button
R - Reset Button
Use stylus on buttons for other actions on bottom screen.
Screenshots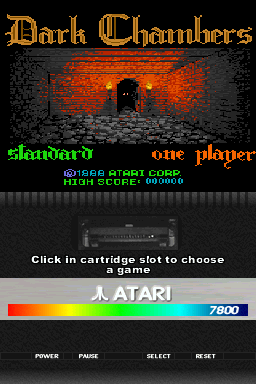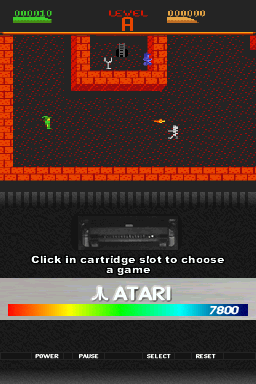 Media
A7800DS V1.0 (alekmaul2009)

Changelog
V1.0 2011/05/24
Initial release based on a320 version (which is based on Prosystem 1.0.3).
Compiled with last version of Devkitpro/libnds, so DSi compatible.
Credits
Wintermute for devkitpro and libnds (http://www.devkitpro.org).
Greg Stanton for ProSystem source code an Atari 7800 emulator.
zx81 for PSP A7800 version.
raz0red for WII7800.
External links