Tetris: The Grand Master 3 DS
From GameBrew
Tetris: The Grand Master 3 DS
General
Author
MeRAMAN
Last Updated
2008/08/15
Type
Puzzle
Version
20080815
License
Mixed
Links
Download
Website

Tetris: The Grand Master is a DS homebrew port of TGM3, which was one of the commercial Tetris games series released (Tetris: The Grand Master, Tetris: The Absolute: The Grand Master 2, and Tetris: The Grand Master 3: Terror Instinct) for the DS.
The development of this homebrew has been discontinued. As according to MeRAMAN, the decision was made due to receiving a warning from the Tetris Licenser that the NDS_TGM would be used for sale/profit, which was contrary to the developer's own intentions.
Features
Different modes of play (Master, 20G, and Death).
Training mode.
Some rule modifications.
Online ranking.
Screenshots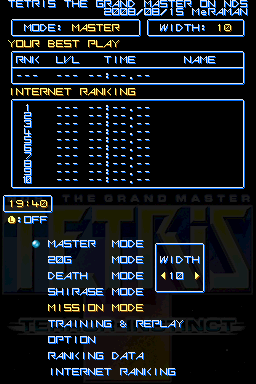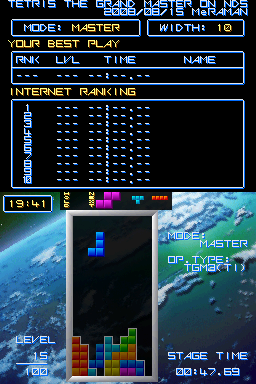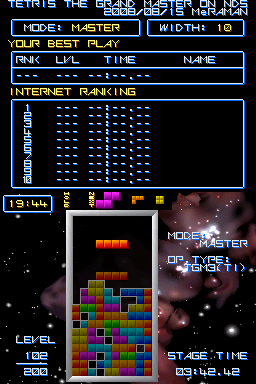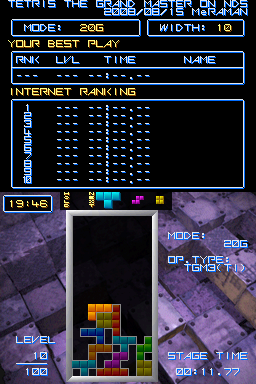 Changelog
20080815 Major changes
Supports Ti background animation.
Fixed to disappear in SHIRASE/BIG Lv.1300 and become BIG roll.
Only after the roll of W10/BIG of SHIRASE, change to applause by erasing 2 lines or more.
SHIRASE Added rising SE sound.
Added SE sound test to OPTION menu.
Implemented 7-color fireworks animation.
Improved processing when returning from the screen saver during PAUSE.
Abolished the display of PAUSED after PAUSE once.
Corrected (deleted) blackouts when the clock display was off when Title and Option were displayed.
Fixed to stop at boot in environments where NitroFS is not available.
Changed the search order of NitroFS to FAT ⇒ GBA ROM instead of GBA ROM ⇒ FAT.
External links