Slide And Run
From GameBrew - a wiki dedicated to Video Game Homebrew.
Slide And Run
General
Author(s)
Gwoin
Type
Board
Version
0.9
Licence
Mixed
Links
Download
Website

Slide And Run is a DS homebrew board game with a tiny physical engine.
It was participate in the NEO Summer Coding Compo 2006.
Features
6 levels (2 lands and 3 levels by land).
2 game modes.
Installation
To play on an emulator, use the Slide_and_run.nds file.
To play on DS with flashcart (Supercard, MK2/3, etc), put the Slide_and_run.sc.nds file on your flashcart as any other game.
To play on DS with another system than above, use the Slide_and_run.nds file.
User guide
Marsxzel is an alien who fall on earth by... accident.
He is lost on some strange countries and must find his spaceship as quickly as possible. The only way to survive is to catch a max of space-mushrooms, which help him to breathe.
Help Marsxzel by moving items on its way and to catch space-mushrooms. Some items are moveable with the stylus, some others not. Some items can fly, and some others not.
Game modes
Versus Time - Marsxzel must find his spaceship in the shortest time.
Catch All - Help Marsxzel to catch a max of space-mushrooms.
The game has a total of 12 levels. The best records are saved.
Controls
Stylus - Trace the best way to Marsxzel, Move items
Screenshots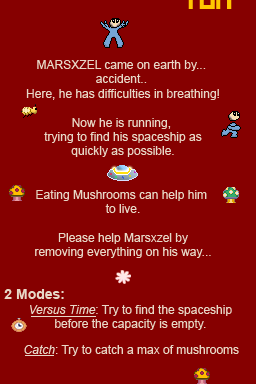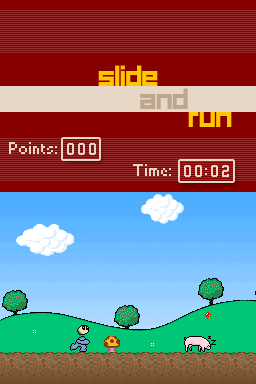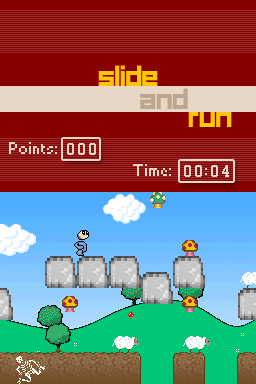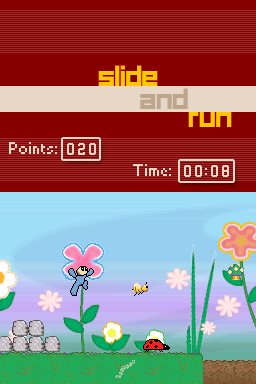 Credits
All gfx by Gwoin.
Sound and music are from:
External links